Welcome to our Mid Ohio Breakfast Club 92.9 WDLR "Shelter-in-Place Cookbook." 
Over the past month or so, we've asked all of our morning show on-air guests to contribute a recipe to our "Shelter in Place Cookbook." We're all hunkered down, staying in the house, so we thought this would be a great way to relieve some boredom and spice up all of our culinary skills. Enjoy! - Mark Bingaman
Uncle Tom's Spinach Balls
Financial Adviser
Waddell & Reed
2 Packages Chopped Frozen Spinach, thawed and drained OR 1 Bag Fresh Spinach, boiled in water,
drained and finely chopped
2 Cups Pepperidge Farm Herb Stuffing Mix
1 Cup Shredded Parmesan Cheese
1 Medium Onion, chopped
1 Teaspoon Fresh Ground Pepper
1 ½ Teaspoons Garlic Powder
½ Teaspoon Thyme
½ Cup Melted, Unsalted Bu*er
3 Eggs, beaten
Preheat oven to 375 degrees. Squeeze out the excess water from spinach. Mix all ingredients together in
large bowl. Roll into balls about the size of a walnut or golf ball and place on non-s4ck cookie sheet or
foil-lined cookie sheet sprayed with non-s4ck cooking spray. Bake for 15-20 minutes un4l brown and
crispy. Share and enjoy.
Connie's Apple Crisp
Connie & Brian  Skinner
Hardscrabble Farm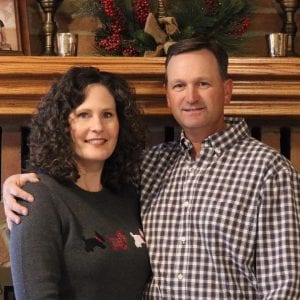 2 Granny Smith apples        
3 Fuji or Gala apples
1/4 cup water
2 Tablespoon lemon juice
1 tsp Cinnamon
1/4 tsp Nutmeg
1/2 cup flour
1/2 cup white sugar
1/2 cup brown sugar
1/4 cup oats (quick or old fashioned)
1/4 cup cold butter
Peel, core and slice apples very thin. Place apples in a buttered 2 quart shallow dish. Combine the lemon juice and water, pour over apples.  Sprinkle apples with cinnamon and nutmeg. 
Then mix together the butter, flour, oats, &  sugars until crumbly. Spread over the apples and bake at 350 degrees for 50 to 60 minutes, or until apples are tender and top is crispy. We like to serve with vanilla ice cream.
"We like to serve this next recipe with eggs or bacon or sausage. It's usually a "breakfast for dinner" kind of thing."
Baked Oatmeal
3 cups quick cooking oats
1/4 cup brown sugar
1/4 cup white sugar
2 teaspoons baking powder
1 teaspoon salt
1 teaspoon cinnamon
2 large eggs
1 cup whole milk
1/4 to 1/2 cup melted un-salted butter  (I personally use 1/4 cup, but original recipe called for 1/2 cup)
Preheat oven to 350 degrees. Combine all ingredients and mix well. Pour into a greased 9 by 13 baking dish. Bake for 20 to 30 minutes, until the top is set and golden brown. Spoon into bowls and serve with warm milk.
We like to top it with sliced strawberries and honey or maple syrup.
Simple Brownie Recipe
George Needham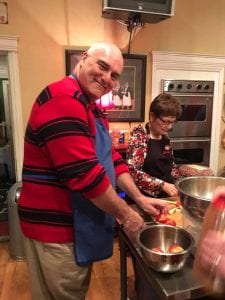 Here's the recipe I mentioned this morning.
Preheat the oven to 350 degrees.
Grease an 8" x 8" baking pan well, or spray well with Pam
Mix:
1 cup sugar
1/2 cup flour
1/3 cup cocoa
1/4 tsp salt
1/4 tsp baking powder
Add:
2 eggs
1/2 cup vegetable oil
1 tsp vanilla
Blend thoroughly and pour the mixture into the prepared pan. Bake for about 30 minutes or until a toothpick inserted in the center comes out clean. 
Shelter Insurance, Delaware, OH
740-SHELTER
Hi this is

Alicia Maitland of Shelter Insuranc

e in Delaware. When Mark Bingaman of the Breakfast Club mentioned that he wanted to compile a collection of yummy recipes from all of their on-air morning show guests, I knew I HAD to be a part of this! 
I mean, it just made perfect sense. We're all stuck in the house, all "sheltered-in-place." And here I am, your local "Shelter" Insurance agent, so that's perfect!
I'm happy to be a part of bringing you this collection of recipes designed to lift your spirits and strengthen your body, mind, and spirit during these rough times. 
As you scroll down below a few recipes, you'll find mine for Indian Lentil Cauliflower Soup. Enjoy!
Teriyaki Rice
Jeanine Seabrook
"Hi Mark, I would love to contribute to the cookbook! Here is one of our favorite recipes."
"Vegetarians can skip the meat or add tofu. You can substitute any grain for the rice."


4 cups cooked rice

2 cups chicken, pork or beef, cut in bite-size pieces

1 cup carrots, chunked small

1 onion, sliced thin

1 can pineapple, diced (peaches or oranges work too)

1 cup red cabbage, shredded (optional)

1 tsp. powdered ginger

3/4 cup brown sugar

3 tbl. Soy sauce

4 tbl. oil

1 tsp hot sauce



Saute meat in oil on medium high heat. Add carrots, onion, cabbage and continue to saute until carrots are soft. Add brown sugar, ginger and hot sauce, stirring constantly, until glaze forms. Gently stir in pineapple, rice and soy sauce to taste. Heat through. Serve.




Wishing you health and safety,
Jeannie
Nora Flanagan
Sexual Assault Response Network
"Here is a recipe I made at Thanksgiving as a side and liked, I think I used pine nuts instead of walnuts and regular onion instead of shallots as that is what I had on hand.  Lots of feta cheese. YUM."
Farro & Green Bean Salad with Walnuts & Dill
For the farro:
1 cup farro
Kosher salt
For the gremolata:
½ cup finely chopped walnuts
1 cup roughly chopped fresh dill
2 tablespoons lemon zest (from about 2 lemons)
2 tablespoons finely chopped shallot (from about 1 shallot)
For the green beans:
2 tablespoons olive oil
1 pound green beans, trimmed
Black pepper
Lemon juice or white wine vinegar
Flaky sea salt, for serving (optional)
Preparation
Add farro, 3 cups water and a pinch of kosher salt to a medium saucepan and bring to a boil. Reduce to a simmer, cover and cook until the farro is tender and toothsome, about 30 minutes.
While the farro cooks, make the gremolata: Toast the walnuts in a large (preferably 12-inch) skillet over medium-low heat, stirring frequently to ensure that they don't burn, 4 to 5 minutes. Transfer toasted walnuts to a medium bowl. Add the dill, lemon zest and shallots and toss to coat. Season with salt and set aside.
Wipe out the skillet and heat the oil over medium. Add the green beans and season generously with salt and pepper. Cook, stirring frequently, until the beans are crisp tender and start to brown in spots, 6 to 8 minutes. Add a few tablespoons of water to help them along, if needed. Turn off the heat.
If there is any residual cooking liquid from the farro, drain it and add the farro directly to the skillet. Toss with the beans until well combined and season with salt and pepper. Transfer to a large serving bowl or platter and top with the gremolata. Drizzle with lemon juice or white wine vinegar to finish. Season with flaky salt, if desired.
Basic Bread Recipe
Brandon Feller
President
Hi Mark,
If you'd like to learn how to bake bread, here's a good place to start. This easy white bread recipe bakes up golden brown. 
Alicia Maitland
Shelter Insurance Agent
Indian Lentil Cauliflower Soup
1 tbls coconut oil
1 yellow onion, diced
3 large cloves garlic, minced
1 tbls peeled fresh ginger, minced
2 tbls curry powder
1 1/2 tsp ground coriander
1 tsp ground cumin
8 cups vegetable broth
1 cup uncooked red lentils
1 medium cauliflower, chopped into bite size florets
1 medium sweet potato, peeled and diced, large chunks
2 large handfuls baby spinach
3/4 tsp, or to taste, fresh ground sea salt
Freshly ground black pepper to taste
Chopped fresh cilantro, for serving (optional)
Serves 4. Prep time: 30 minutes Cook time:about 40 minutes.
gluten-free, nut-free, soy-free, sugar-free, grain-free
1. In a large saucepan, heat the oil over medium heat. Add the onionand garlic and saute for 5 to 6 minutes, until translucent. 
2. Stir in ginger, 1 tablespoon of the curry powder, coriander and cumin and saute for 2 minutes more, until fragrant. 
3. Add the broth and red lentils and stir to combine. Bring the mixture to a low boil, then reduce the heat and simmer for 5 minutes more. 
4. Stir in the cauliflower and sweet potato. Add the remainder of the curry powder, Cover and reduce the heat to medium-low. Simmer for 20 to 25 minutes, until the cauliflower and sweet potato are tender. Season with the salt and the pepper. Stir in the spinach and let sit for 5 minutes. 
5. Ladle the soup into bowls and top with cilantro, if desired. 
Jen Cochran
Assistant Chief, Delaware County EMS
The WDLR Mid Ohio Breakfast Club Shelter-in-Place Cookbook